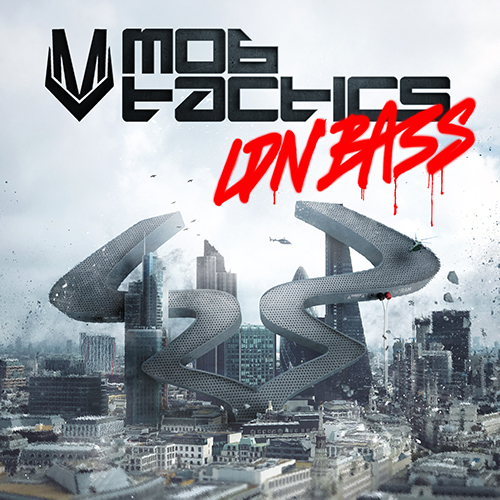 The duo comes good with this storming single.
With their work getting shown some love through Ram's 2018 Drum & Bass Annual, the UK duo Mob Tactics have again been picked up by the label. Ram Records ensures that each release they put out is of the highest calibre; "LDN Bass" is no exception.
This is an all-out smasher that blisters through any sound system in no time at all. Primed for destroying club floors, it packs a serious punch. The Mob Tactics guys opt for a dominating, sweeping bassline and offset it with those fast shifts and high-pitched vocals.
If you caught their previous singles "Dreamway," "Convoy" or "Bigfoot," you will know Mob Tactics mean business with their full throttle productions.
Describing the making of "LDN Bass," the pair says: "LDN Bass, like so many of our tracks came about purely by accident. It was originally going in the direction of a subtle roller, but as is so often the case with us, things took a turn for the more gnarly!As the track progressed, we fully embraced our rave roots and turned it into a straight up, no nonsense teeth-grinder – aimed squarely at the dancefloor. It's been getting a great reaction in the clubs, and even being our own harshest critics, we're kinda proud of this one. Bass for your face, LDN!"


Check it out here.
About Mob Tactics
Ironically, given the fact that they've got "Tactics" in their name, Mob Tactics came about quite by chance.
Mark was producing as The Funktion, and Luke, in his role as label manager for RUN DNB, liked what he heard and signed some of his tracks. It became apparent that Mark and Luke's taste in music was ridiculously similar and, over the course of a few weekends, they decided to get in each others studios and see what happened…
Recent years have seen Mob Tactics revel in creative freedom. Releases like the "Body Check EP" and the Ryme Tyme-laced "Tweakers" have demonstrated multiple facets to their sound. Unconstrained by sub-genre limitations, the one thread that binds all their work is that commitment to making ravers move.
Anyone who's witnessed one of their blazing deejay sets anywhere around the globe will testify to the vibes and energy Mob Tactics bring to a dance. And, even since opening up their personal dub collection to the masses with their "Mob Vaults" releases on BandCamp, the amount of firepower they're packing on their USBs shows no sign of diminishing.
So, this is Mob Tactics. Signed and certified by some of the biggest deejays and labels in the scene, we've got a feeling they're just getting started…
Follow EKM.CO on:
Spotify
Soundcloud
Youtube
Facebook
Twitter
Instagram
Looking for music promotion?
Submit Here