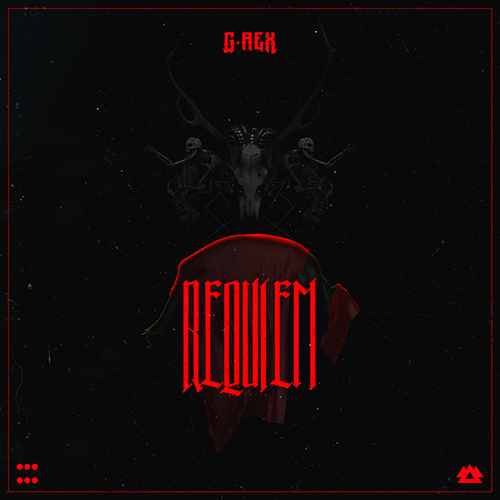 Wakaan have just released this mighty collection.
Detroit's very own G-REX has produced and released his latest EP, just out through Wakaan. If you caught one of the heaviest bass tunes of last year, you will be familiar with "Babatunde," which G-REX made alongside PEEKABOO.
Following on from the track's widespread success, G-REX is back with not just a single but four new sounds under the Requiem title. It is clearly a project that the producer/DJ is proud of, and he says:
"Really excited to finally get this EP out. I feel like this body of work really shows the progression of my sound and is much more aggressive than the last."
There is no doubt about its aggressive energy. He gets things started with brute force and striking rhythmicality – "Ladi" comes straight out of the speakers stomping.
With a little more refined, atmospheric tension comes "Asylum." No less sinister in its vibe, G-REX takes longer to get to its furious drops and stabbing melodies with an elongated intro.
STUCA has been brought into the fray for "Voodoo," which is gritty and spectacular in equal measure. It's impossible not to admire the sheer sonic range on display here from G-REX.
To signal the end of the EP perhaps is "Warning," the kind of tune that cuts through a speaker with its thudding, impossibly weighty bass notes and repeated whirs.
Requiem really is a stellar addition to Wakaan's catalogue and if you're looking for something to immerse yourself in today, this might just be it.
Stream it below.
About G-Rex
Although the origins of G-REX can be dated back to 2015, 2018 was certainly a breakout year for Detroit native producer, Jake Sweeney. As he worked to perfect his brand of high energy trap and bass fused with sinister dubstep sound design, he honed in on a deep dark sound that has become a recognizable signature in his music and earned him the respect and support of leaders in the scene. In September 2018 he released one of the biggest bass music tracks of the year, "Babatunde," as a collaboration with friend and fellow bass music phenom, PEEKABOO, on Liquid Stranger's record label, WAKAAN. He then followed up with his debut four track RIFT EP, also on WAKAAN, as well a recent collaboration with Ghastly.

2019 sees G-REX's first major tour appearance as support on Liquid Stranger's 36 date INFINITY TOUR January through March, the release of his second EP, and a handful of singles including official remixes and collaborations with major players in the bass music scene.

While many continue to regurgitate the same stale sounds, G-REX is here to usher in a new era of cold-blooded bass.
Follow EKM.CO on:
Spotify
Soundcloud
Youtube
Facebook
Twitter
Instagram
Looking for music promotion?
Submit Here