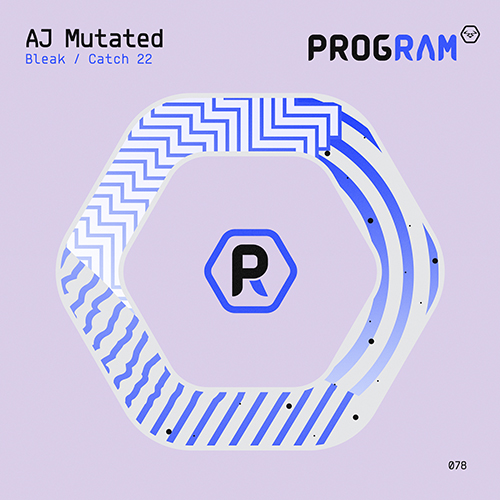 This new release by AJ Mutated lands on ProgRAM.
The UK drum and bass label has had a strong run of recent releases. The younger sister of Ram Records (originally established by scene behemoth Andy C), is all about championing new talent and now they add AJ mutated to the roster.
Artists from all across the world are getting a platform to showcase their developing sounds, and we're here for that. As a result, ProgRAM has just put out two tracks from AJ Mutated. Whilst you may be aware of Mutated Forms, AJ is stepping out of the group's shadow to produce some solo stuff.
He excels with "Bleak/Catch 22," which offer up different sides to his production. Going super charged in the mix is the former, a dark yet enticing listen. Expect relentless power here: explosive beats and electrifying snarls of melody.
On the flip we have "Catch 22." There is a more drawn-out feel to this tune, and it's one to roll out on a busy dance floor. No doubt it's already been road-tested at many clubs. It still moves sharply with synth stabs and marching beats, but has space to expand.
AJ Mutated sums up "Bleak" for listeners, saying: "The name and mood came from a friend showing me the 2003 UK series Monkey Dust (which was BLEAK AS HELL), and I somehow ended up making a synth – naturally it progressed into this.

With "CATCH 22," "I wanted to capture a similar feel to some of the angry rollers we were making in 2010, but with a more technologically advanced and better engineered sound."AJ Mutated is set to continue the impact he has made on the scene with Mutated Forms."


Listen to both tunes right here. Enjoy!
About AJ Mutated
AJ Mutated is one part of Mutated Forms, which has become a respected name in the D&B scene. The quality and diversity of Mutated Forms' collective work is what sets them apart from the rest. Their willingness to stretch through different genres is what keeps their music fresh: from the serenely liquid and euphoric to straight up dirty funk and filthy dance floor destroyers.
Follow EKM.CO on:
Spotify
Soundcloud
Youtube
Facebook
Twitter
Instagram
Looking for music promotion?
Submit Here