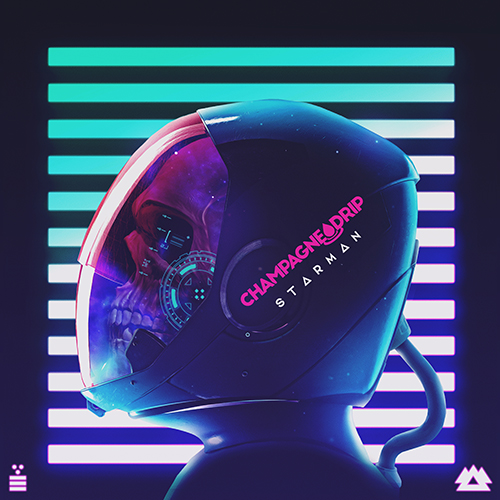 We can confirm this isn't to be missed!
Wakaan has a new four-track EP up for grabs. The label, run and curated by freeform bass artist Liquid Stranger, puts Champagne Drip into the spotlight with Starman.
Previous releases from the producer have landed spots on labels including Mad Decent and UZ's Quality Goods Records. Because he has an effortlessly slick style, Champagne Drip never disappoints. He moves without restraint through styles and soundscapes. As a result, this project excels. "The Sentinel" opens with distinctive effort. A growling yet fluid bassline instantly commands attention. Next, the catchy "Soundboy Dead" captures drawling vocals and a grittier vibe.
"Kaleidoscope," a dreamy collaboration with singer Crystalline provides some wonderful contrast. Continuing on the same, space-inspired theme is "Satellite" ft. Len X. And naturally it oozes dynamics and electronic quips. We love the diversity on show here!
Champagne Drip says: "With 'Starman' I wanted to create a more diverse record and explore visceral sub-driven depths. they almost sound like some sort of communication from an ancient presence tapping into something deep, internal and mystical.

Each track was started during a different time of inspiration aND they all come from a different place. It was really exciting pulling these together and making something cohesive."
Interested? Show it some love and hit stream.
About Champagne Drip
Champagne Drip is the newest musical incarnation of Los Angeles-based producer Sam Pool. It was born out of a philosophy that innovation springs from inspiration. Under the moniker of SPL, he spent 10 years releasing drum & bass, dubstep, and other styles of bass music. Work with respected labels such as Barcode, Tech Itch, Evol Intent, Rottun, SMOG and his own label Hollow Point Recordings soon followed.
Because SPL's music was fully immersed in sound design, musical landscapes showcasing melodic, dark, and refined touches were created.
And 2019 is set to be the biggest year yet for Champagne Drip, with more releases on Wakaan and a nationwide tour alongside Liquid Stranger.