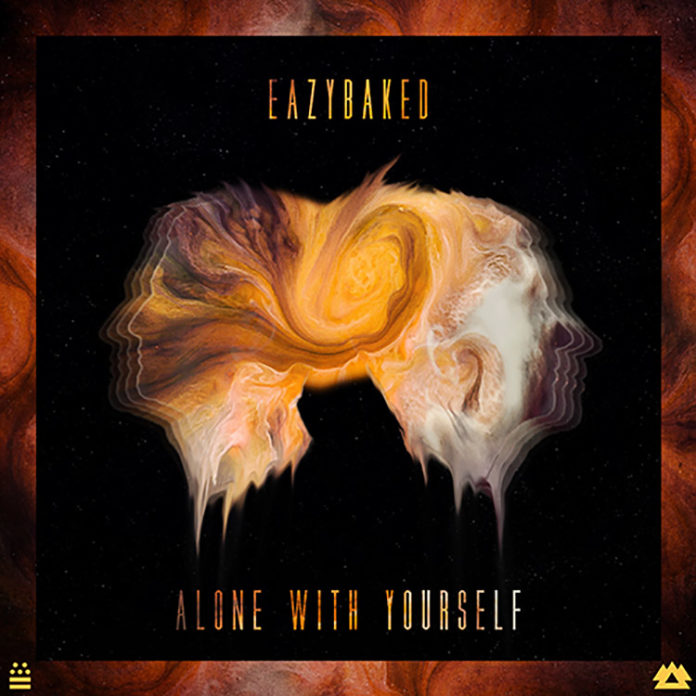 This year has seen some awesome releases from EAZYBAKED. The creative duo is back to round off 2018 with the Alone With Yourself EP. You can immerse yourself in a generous seven tracks – we recommend you do so.
From the track-listing, there are a few that really stand out for us. We love the striking introduction to the set, "Vessel." It jumps out of the speakers with its precise rhythmicality and cutting bass. As a result, the opener offers us everything that makes EAZYBAKED stand out from the crowd. Quite simply, it is a little slice of dynamite. The title track is packed with intricate samples that keep you guessing throughout. "Facelift" gives us EAZYBAKED matched by G-Space. The tune staggers with off-kilter riffs and edgy bass-driven beats.
Our top pick has to be the intense "Changes." It is fuelled by throbbing low-end energy and snappy riffs – a real explosion of unique flavours. There is versatility bursting out of the Alone With Yourself EP, and we love how EAZYBAKED are never afraid of mixing things up.
If you're looking for something powerful to check out this week, this is it. Support EAZYBAKED and Waakan and give Alone With Yourself a full stream now.
About EAZYBAKED
We've been best friends for 13 years. We always clicked, like friends in a past life. Music was always there, something to distract us from our mundane lives. Random freestyles in the garage over some old instrumentals, sitting on the roof jamming some tunes as the sun rises.
The idea was tossed around from time to time to start making beats and one of us would rap. But, it never gained any traction. It was more of a fun thought. But in 2012 we got our first drum pad, the Akai mpd18.
From then on it was non-stop. We couldn't get enough of this thing. Seemingly overnight it turned from getting high, messing around on the drum pad and free-styling to "OK, we need to get serious." Eventually we got Propellerhead Reason 5, and that's really where it all started.
At this point we were still two separate entities, making sounds in the same place. We would produce a track and post it one another's page as a collaboration. It wasn't until a random day a year later where we said: "Fuck it, let's do it." We combined EAZY & Mr. Baked, and that was the day EAZYBAKED was born.
While paying respects to all music genres, EAZYBAKED strives to take music in a fresh direction – rich basslines and eclectic arrangements take beats out of the box and immerse listeners in an unmatched audio experience.