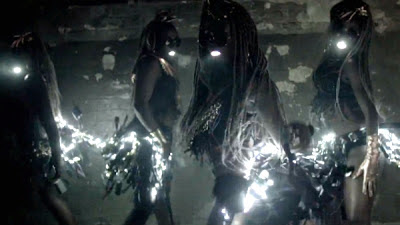 Skrillex's new music video for the single "Ragga Bomb" is crazy original, nothing surprising here! The video takes place in a post-apocalyptic world within a dancehall community with sick dance moves, weird scooters, lightsabers and other cool stuff. Ragga Twins' reggae vocals on top of the dancehall/dubstep instrumental create such a great match, I hope more artists will hop on the train and produce more rhythms like this with reggae vocals. Check out the music video for "Ragga Bomb" below.
"Recess" is available now. Support on:
Available at physical retailers worldwide.
Production Company – Egg Films
Director – Terence Neale
Executive Producer – Colin Howard
Producer – Rozanne Rocha-Gray
Line Producer – Devi Lazanas
DP – Michael Ragen
Art Direction – Michael Linders + Wendy Fredrikson
Costume Design – Elmi Badenhorst + Richard de Jager + Sandra Smit
Choreographer – David Mathamela
Editor – Evy Katz, Left Post Production
Colourist – Craig Simonetti, Pudding
Visual Effects and Online Supervisor – Jean du Plessis, Blade Works Post Production & BFX
Camera and Grips Equipment – Panavision
Lighting Equipment – Media Film Service
Follow Skrillex:
Follow Ragga Twins: