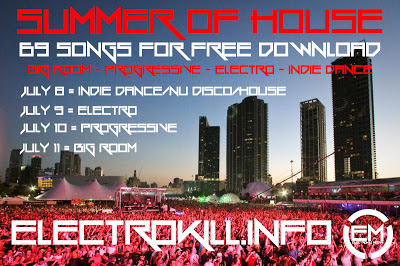 I know I didn't provide your dose of House music in the past 2 months, whether its Progressive House, Electro House or Big Room House, I focused a lot more on Bass music and I'm sorry for the people that aren't happy about that. Last week, I took a whole day to listen to every House music submissions I received (over 200) and kept only the best ones to create the "Summer of House" compilation! The result is 69 banging songs for free download! Since I couldn't fit 69 tracks in one post, I divided them into 4 parts:
(Click on the part you wish to view to open it in a new tab)
Part 1 – House / Indie Dance / Nu Disco / Tropical / Tech House / Minimal / Electro Pop
Part 2 – Electro
Part 3 – Progressive
Part 4 – Big Room
The final part of "Summer of House" is here! Last but not least, Big Room music is what's hot right now, people in festivals are having "Animals" overdoses! Since it's so popular right now, free Big Room releases are pretty rare, artists know they can make a few bucks by selling this trendy s**t so they choose that option! However, some producers like Borgeous, T-Fresh, Jackson Days, Bryan Matrix, Gazzo and many others are generous enough with their fans and give their Big Room monsters for free! Make sure you check 'em out if you dig what they do, after all it's the least you can do, they work countless hours on productions they give away for free!
Make sure to scroll down to the bottom to find DJ Knoxx Festival Issue mix, if you need one mix in this festival season, big house music, summer anthems, you will be pleased with his track selection and mixing skills! Knoxx is a beast!