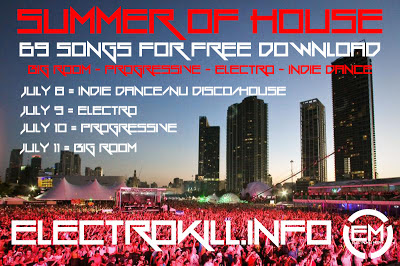 I know I didn't provide your dose of House music in the past 2 months, whether its Progressive House, Electro House or Big Room House, I focused a lot more on Bass music and I'm sorry for the people that aren't happy about that. Last week, I took a whole day to listen to every House music submissions I received (over 200) and kept only the best ones to create the "Summer of House" compilation! The result is 69 banging songs for free download! Since I couldn't fit 69 tracks in one post, I divided them into 4 parts:
(Click on the part you wish to view to open it in a new tab)
Part 1 – House / Indie Dance / Nu Disco / Tropical / Tech House / Minimal / Electro Pop
Part 2 – Electro
Part 3 – Progressive
Part 4 – Big Room
Part 3 is here! If you like your house with big melodies, huge build ups, uplifting vocals and a bit more cheese than the other types of house, this feature is for you! Featuring: Kaskade, One Republic, Lana Del Rey, Daft Punk, Ellie Goulding, Tegan, Jackson Days, Gazzo, Lumberjack & Many More! All for free download as usual! Only one last "Summer of House" feature left, tomorrow is the BIG ROOM house free downloads! Stay tuned!