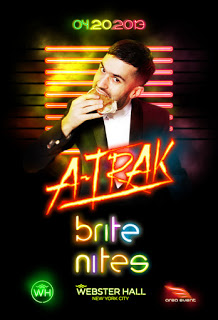 Our friends over at
Webster Hall NYC
 have announced the end of their infamous Circus Saturday party on Saturday nights. Sad I know right? Yes… wait NO… With the end of Circus Saturday they usher in a new theme and are promising to take the epic to the next level with Brite Nites! I was informed that it would be a sea of neon clad party goers enjoying nothing but the best Saturday night line ups they could possibly think of. Also in addition to the insane lineups they have announced they will be supported by resident DJ's
Mike Chach
&
Jess Marquis
! On a side note the look out in the near future for giveaways to some of these shows from ElectroKill.info! So with out further hesitation here are some of the billings, flyers, and some music from the booked artists! Enjoy!
Then after that amazing show and following the saturday after the (G&B) Alvin Risk + Photek + Luminox + Empress show, they have A-Trak + Oliver on FRIGGEN 4/20!!!!!!! Tunes below.
Your asking yourself how much more could they possibly do on a saturday night? I know, I know, but don't under estimate the people over at Webster Hall just yet. The Saturday BEFORE the (G&B) Gramatik + Cherub + HeRobust on 5/3, they have  Myon & Shane 54 on saturday 4/27!
So there you have it folks a little preview of the neon clad insanity that will be Brite Nites at Webster Hall NYC, EVERY saturday with out fail. Be on the look out for ElectroKill.info to be giving away tickets to some of these events in the near future! Enjoy the tunes and be on the look out for my next article on a new venture that G∆GE is a part of, in Groove Therapy Records! Thanks for reading, until next time everyone!