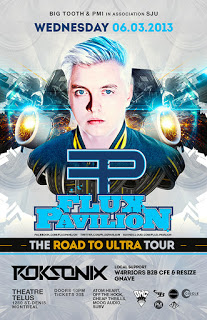 BIG TOOTH + PMI in collaboration with SJU
https://www.facebook.com/BigToothMtl
https://www.facebook.com/PMImtl
https://www.facebook.com/LaSJU
PROUDLY PRESENT….
▼▲▼▲▼▲▼▲▼▲▼▲▼▲▼▲▼▲▼▲▼
★★★ MARCH BASS MADNESS 2013 ★★★
▼▲▼▲▼▲▼▲▼▲▼▲▼▲▼▲▼▲▼▲▼
ONLINE TICKETS -> http://www.wantickets.com/flux
▄▄▄▄▄▄▄▄ SHOW #1 ▄▄▄▄▄▄▄▄
The most highly anticipated BASS showdown is back once again and we weren't kidding around when we said "VOUS ETES PAS PRET!!"
Ladies and gents, boys and girls, bass-heads of all ages.. it's back!!
Hold on to your hats cause we're opening this one with one hell of a doozy..
For a first ever MBM appearance along with a 2 time MTL throwdown veteran duo… Make some fkn noize for…..
★★★★★★★★ FLUX PAVILION ★★★★★★★★
Northampton, UK
Circus Records
Flux Pavilion is a one man orchestra! With the ability to Sing and play a large variety of instruments it's obvious that music comes naturally to him. Since first sitting down at a keyboard at the age of six his dream has been to make music that he loves and perform it to people who love it just as much.
Flux Pavilion AKA Joshua Steele has always been influenced by hard hitting dance music in everything that he does and it was only a matter of time before he found his own sound in the dance industry. in early 2008 Dubstep lit this internal fuse and he hasnt been the same man since.
Influenced by the likes of The Prodigy,Basement Jaxx and dubstep pioneer Rusko, Flux loved the high energy madness that dance music was capable of and set about making some of his own in the form of dubstep. Already adept with production skills he was soon off the starting block and his tunes were in swift circulation on the dubstep forum and were becoming a familiar name in the scene. What started of as a bit of experimentation soon became clear that Flux has definitely landed on his feet with the dubstep sound.
Before long labels were banging at his door itching to release his music so he decided that the world was ready for a bit of Flux Pavilion! Signing tunes to Rottun, Shift, XS Records, Stupid Fly and Dubmented beats and working with artists such as Datsik and Trolley Snatcha, his tunes were dominating the charts and starting to receive alot more interest from the big boys.
Ntype featured his track 'fucking noise' on his rinse mix cd and not content with that then signed flux's track 'Meathead' to his label wheel and deal. This was a massive look for flux and got his name out there to all the Dj's: Rusko, Hatcha, Plastician, Caspa, Skream. Soon enough no club was safe from one of Flux's bangers and the bookings came flying in all over the UK and Europe.
While his career flourished Flux and childhood Friend Doctor P had also been working on some stuff together. They teamed up with Legendary DJ and drum and bass pioneer DJ Swan-e and Earl Falconer of UB40 and formed the infamous Circus Records. With his own platform for dubstep Flux began to imprint the scene with his sound and was quickly becoming one of the main players in dancefloor dubstep family. His track Voscillate Received 'Track of the Week' on Rusko's radio one takeover which even featured his own vocals and more to date his forthcoming single "I can't Stop" has just received world record of the week by Radio 1's Zane Lowe.
Well known for his high energy performances and smashing anthems Flux is now performing all over the globe, and further tours are confirmed for next year in the U.S, Canada and Australia.
http://fluxpavilion.com/
https://twitter.com/fluxpavilion
https://soundcloud.com/flux-pavilion
https://www.facebook.com/fluxpavilion
★★★★★★★★ ROKSONIX ★★★★★★★★
Milton Keynes, UK
Circus Records
Roksonix are an exciting dubstep dj/producer double act hailing from North London, currently releasing and smashing their music across the globe. They are renowned for big bass driven tracks such as remix's of Imogen Heaps "Hide & Seek", Flux Pavilion's "Voscillate" and also original tracks such as '2 Bad', Skank Tank & Let's Go.
After smashing Europe and the US last year, this year has been packed full of international gigs. The boys have huge ambition and have several exciting projects planned to collaborate with big names in and out of the dubstep scene. With influences from a wide spectrum of genres these boys are bringing a refreshing sound to dubstep, which is clearly causing huge interest and excitement for their future productions. With there first Vinyl & Digital release on Circus Records Music in Me/Madness hit #2 on beatport and with a slew of forthcoming releases and remixes, this fresh duo are gaining hype and respect from artists and dubsteppers worldwide.
Roksonix thrive off their live performances and are staring to build a massive reputation for themselves becoming renowned for their quick fire all killers no fillers style of mixing which has been smashing many a dancefloor across the world, if you haven't seen these boys in action they have a mad energetic stage presence and with each banger they drop your sure to get a reaction, these lads are definitely worth the watch! Now after being signed exclusively to the mighty Circus Records the future looks very bright for the boys from North London…
https://twitter.com/Roksonix
http://soundcloud.com/roksonix
http://www.facebook.com/roksonix
▄▄▄▄▄▄▄▄▄▄▄▄▄▄▄▄▄▄▄▄▄▄▄▄▄▄▄▄▄
WITH LOCAL SUPPORT FROM:
▄ the W4RRIORS
▄▄▄▄▄▄▄▄▄▄▄ BIG TOOTH
http://soundcloud.com/w4rriors
https://www.facebook.com/theW4RRIORS
▄ CFE & RESIZE
▄▄▄▄▄▄▄▄▄▄ PMI
http://soundcloud.com/resize-dubstep
https://www.facebook.com/CFEdubstep
▄ GNAVE
▄▄▄▄▄▄▄ BIG TOOTH / PMI
http://soundcloud.com/egoodman
https://www.facebook.com/GNAVEmtl
▄▄▄▄▄▄▄▄▄▄▄▄▄▄▄▄▄▄▄▄▄▄
WEDNESDAY MARCH 6TH 2013
THEATRE TELUS | DOORS @ 9PM
▄▄▄▄▄▄▄▄▄▄▄▄▄▄▄▄▄▄▄▄▄▄
▄▄ TICKETS ▄▄ TICKETS ▄▄ TICKETS ▄▄TICKETS ▄▄
EXTRA EARLY BIRDS – 25$ **(Online Only) (SOLD OUT)
EARLY BIRDS – 30$
DOOR – 35$
ONLINE HERE -> http://www.wantickets.com/flux