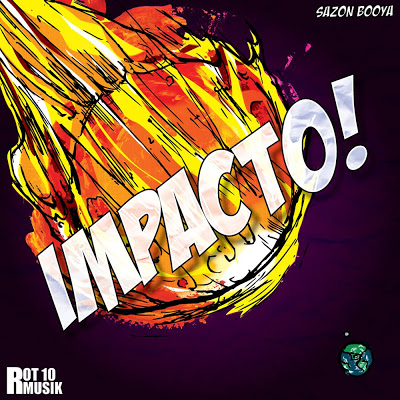 New York City moombah-heavyweights Sazon Booya make an impressive return to the airwaves with their latest five-track mega effort, the Impacto EP! With featurings of Etc!Etc!, Jay Jacob, Anna Yvette, LoBounce, Gnucci Banana, Valerie Valentine, and Otis Clapp. This is one massive EP for the 110BPM/Moombah heads!
Yes, it's been a minute since we've heard anything new from Mr. Vega and DJ SAV, but that's not to say that they haven't been busy. 2012 has found the twin terrors of tropical bass on an incredible touring tear. Whether alongside Tittsworth and Bro Safari on the latter's incredibly successful nationwide "Bros Gone Wild" tour, playing NYC's Electric Daisy Carnival, the Camp Bisco Festival or opening for Sidney Samson and Skrillex, the two DJ/producers have had an incredible year to date.
Within five seconds, lead track "Impacto" featuring hip-hop emcee Otis Clapp gives fans of Sazon Booya exactly what they want, and gives the rising and subwoofer-punishing dance genre exactly what it needs. It's the fist in the face and boot in the ass to get your peak hour groove on in the largest of big room spaces. In an era where concussive and electronic bass energy plus simple, yet inherently entertaining lyrical content equal mainstream success, Vega and SAV are likely the genre's best two representatives of where moombahton's most immediate pop success will occur. Tracks like "Are You Ready" featuring Gnucci Banana and "She's the Bass Drum" are instructional floor fillers, the hottest new sounds from the wildest new style on the cusp of universal pop acceptance. As well, LoBounce's flip of early 2012 underground big room moombahton smash "Secret Heart" is a glitchy, pulse-pounding acid house breakdown interwoven with a delightfully airy vocal.
Mr. Vega and DJ SAV have again succeeded in pushing the boundaries and expectations of tropical bass sounds. If you missed the bright pulsating vibes and inviting, bass friendly style of Sazon Booya, be prepared for them to return and absolutely make an impact on dance floors worldwide!
https://www.facebook.com/sazonbooya
https://twitter.com/SazonBooya
http://youtu.be/wsS6VZyTKYM