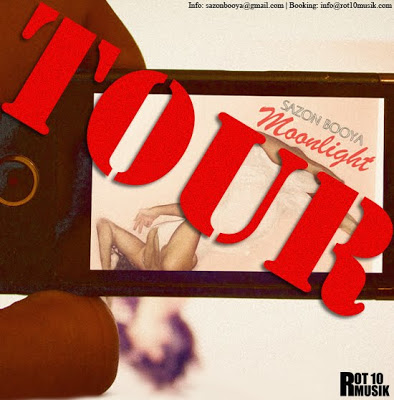 Moombahton DJ/Producer duo Sazon Booya just wrapped their newest single "Moonlight" and are ready to debut it November 27th. Fresh off The Mothership Tour after parties with Skrillex, Nadastrom, 12th Planet and Dillon Francis, Sazon are ready to begin their own tour promoting the upcoming release. Tracks off the new project have been in support from Alvin Risk, Munchi, Dillon Francis and Nadastrom, check here.
Sazon Booya's debut EP "La Bomba" had a huge impact on the Moombahton scene putting them on stages with Laidback Luke, Benny Benassi, Nadastrom, Skrillex and Munchi in the states all the way to The Social Club in Paris in just a matter of months. The video for La Bomba is sitting at 18k+ views and their latest video for Cochinas is approaching 4k.
And now it's that time again people! Sazon Booya has done it again with Midnight Moombah Sessions Volume 4. In case you don't know this is their exclusive mix series of Moombahton tracks that you CAN NOT & WILL NOT find on the internet or digital stores anywhere. As always there is no tracklisting to keep everything exclusive. Hope you enjoy the mix its free for everyone.
Sazon Booya – Midnight Moombah Sessions Vol 4
Moonlight Tour Dates:
Nov 26th – Kansas City, MO
Nov 27th – Dec 1st: Open
Dec 2nd: Webster Hall, NYC w/ Nadastrom, Surkin, Digitalism
Dec 3rd – Dec 6th: Open
Dec 7th – Bajaton – San Diego, CA
Dec 8th – Reset – Long Beach, CA
Dec 9th – 31st: Open
***Also select dates available for booking Sazon Booya & Heartbreak together: 11/1-11/17, 11/19-11/24, 11/27-11/30
Check out this vid! Dillon Francis and Nadastrom droppin' a massive track by Sazon Booya!
If you like his latest mix download the previous one, a bit smoother than the usual moombahton we post but I'm really diggin' the vibe!
Sazon Booya – Midnight Moombah Sessions Volume 3
Get his new choonz right here!
Follow, Like and more …you know the deal!
Facebook – http://www.facebook.com/sazonbooya
Twitter – http://www.twitter.com/sazonbooya
SoundCloud – http://www.soundcloud.com/sazonbooya